Travel & Destinations
Most Recent Travel Stories >>
The Saturday City: Portland
Portland, Oregon is a city located in the Pacific Northwest region of the United States and one too often overlooked by tourists, living in the shadow of cities like L.A., Seattle, Vegas, Chicago, or New York City. But Portland is one of America's most unique (and liberal) cities, famous for its outdoor adventures, micro-brewed beer, green living, parks, and boutique food.
My first trip here was a few years ago for Thanksgiving. While in Spain I made friends who lived in Portland and paid them a visit on my way to Asia. Then last year I came back and spent more time eating my way around the city. What started as a like during my first trip turned into love on my second. And now, I can't wait to return next month as part of my book tour. Portland has joined the very tiny list of cities I would actually live in.
What I really love about Portland is the high quality of life. It's easy to get around, there is good public transportation available, it's compact, there's delicious food, the locals are friendly, it's environmentally friendly, and, most importantly, there's great beer.
I think Portland has a lot to offer travelers. It's a shame this city gets overlooked so often. But if you do make it here (and you should), here's my list of top things to do:
See Pittock Mansion – A stunning Victorian mansion in the western part of Portland that dates back nearly a century. The mansion contains beautiful artwork and furniture collected by the original owners. You can explore the mansion by yourself or on a guided tour.
Explore the Portland Underground – The Portland Underground Tour explores a series of tunnels in the Old Town section of Portland. The tours focus on the history of the tunnels, where kidnappers sold their victims to work aboard boats leaving port. I love underground city tours; I find learning about how cities grow and build on top of themselves fascinating (Seattle and Edinburgh underground tours are especially interesting) and this tour is no exception. They also offer paranormal related tours but I tend to stay away from those.
Wander Downtown Portland – The heart of the city is centered around Pioneer Square and is a great place to explore local shops, hang out in the square, and just wander around. There's nothing really special about this area but I like grabbing a drink, sitting in the square, and people-watching on a nice day.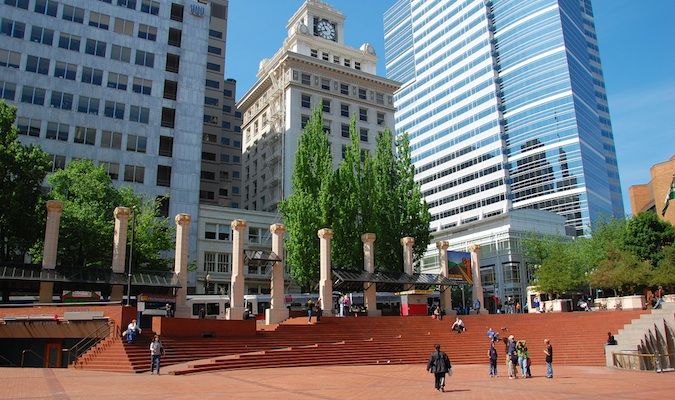 Hang out in the Pearl District – A very hip and trendy neighborhood on the streetcar line. It is an excellent place to hang out and people-watch while eating at some of the best restaurants in the city. On the first Thursday of every month, all the art galleries open their doors for casual viewing, and many serve wine and cheese. The famous Powell's Bookstore is also located in this
Source: Nomadic Matt Traveler Blog
Related Stories & Articles
Most Recent Headlines

more Travel & Destinations

---

In common with many of us, Cal Flyn would sit at her desk in an office and daydream about giving it all up for a life of adventure. Except she followed through. She kept a diary of the winter she spent on a husky farm in the Arctic Circle.

...Read More→

We're all for seeing nature up close, but this could be pushing it. Wildlife photographer Justin Hofman captured these amazing shots of southern right whales in Argentina. His photos give a sense of their immense size, especially when compared to a tourist boat. Lucky for us, Hofman had permission from

...Read More→

Discover tranquil places where you can enjoy the sun and surf without the crowds.

...Read More→

Hate cold weather? Hawaii and Puerto Rico are just two sunny places we recommend visiting during the wintertime.

...Read More→

From the Bahamas and Cozumel to Alaska and Hawaii, whether you're planning your cruise to Cancun or the Mediterranean, learn about the latest cruises, cruise deals, and senior cruises available at AARP.

...Read More→

Just about every major U.S. city can proudly boast a "gayborhood" or two, but these five gay friendly cities fly their gay-pride travel flags the highest.

...Read More→